The insurance industry has reached an evolutionary crossroad. The fast-evolving world of InsurTech mandates that insurers become digitally agile. With Fintech solutions becoming more common, a responsive approach would enhance the ability of promising insurance innovations to develop and flourish.
There are various technologies stepping into the value chain to enhance and disrupt the way insurance businesses used to function earlier. The industry should consider testing their products in a controlled environment or a 'Sandbox'. This approach can provide certain advantages such as allowing insurers to launch unconventional products on a pilot-basis before seeking necessary approval.
A sandbox approach in insurance can be used to carve out a safe and conducive space to experiment with innovative Insurtech solutions. It is a process of experimenting on a limited scale initially, where the consequences of failure can be contained before finally being adopted; consequently not allowing regulation in being a constricting force in their innovation journey.

Sandbox approach, a global affair:
Implementation of the sandbox to test customer's interest is now a global call. It is being implemented in most region's financial hubs including UAE, Australia, Canada, Hong Kong, Malaysia, Singapore, Switzerland, and the UK.
The FCA (Financial Conduct Authority) the UK, the British financial regulator was the first to launch the Fintech sandbox, back in 2016. The FCA reported 90% of firms that completed testing in the sandbox are continuing towards wider market launch.
Under the FCA Cohort System used in their Sandboxes, the focus of current testing includes; Blockchain-based payment services, Reg tech propositions, general insurance, AML controls, Biometric Digital ID and know your customer (KYC) verification.
One of the most surprising aspects is the growing number of countries that have proposed the sandbox approach to remain competitive with those already on board. These include countries such as Indonesia, Israel, Russia, Taiwan and the USA.
First launch in India:
"In the recent past, new Insurance companies and Insurance intermediaries have carried out technological innovations in their products and services,"

"The authority encourages companies to develop such new technologies to add value for customers, increase efficiency, and better manage risks."

 S C Khunita, IRDAI chairperson, was quoted as saying by the Times of India.
NITI Aayog had organised a day-long Fintech Conclave on 25th March 2019, with the objective to shape India's continued ascendancy in Fintech. It featured representatives from across the financial ecosystem. Mr Shaktikanta Das, RBI Governor; confirmed that the RBI will come out with the necessary regulations for the sandbox in the Fintech sector within two months to ensure regulatory compliance.
IndiaFirst Life insurance company was the first to launch an insurance plan under the sandbox approach; on 12th April 2017 and got approval for the launch on 27th November 2017. The plan was called "Insurance Khata". It was directed towards those with seasonal incomes, mostly belonging to the underserved sections of Indian society. It lets buyers pool multiple single insurance plans into an account and allow payment of premiums as per the user's convenience.
" Use a Sandbox approach to test customer's interest " was one of the key takeaways of The Indian Insurance Summit & Awards 2019.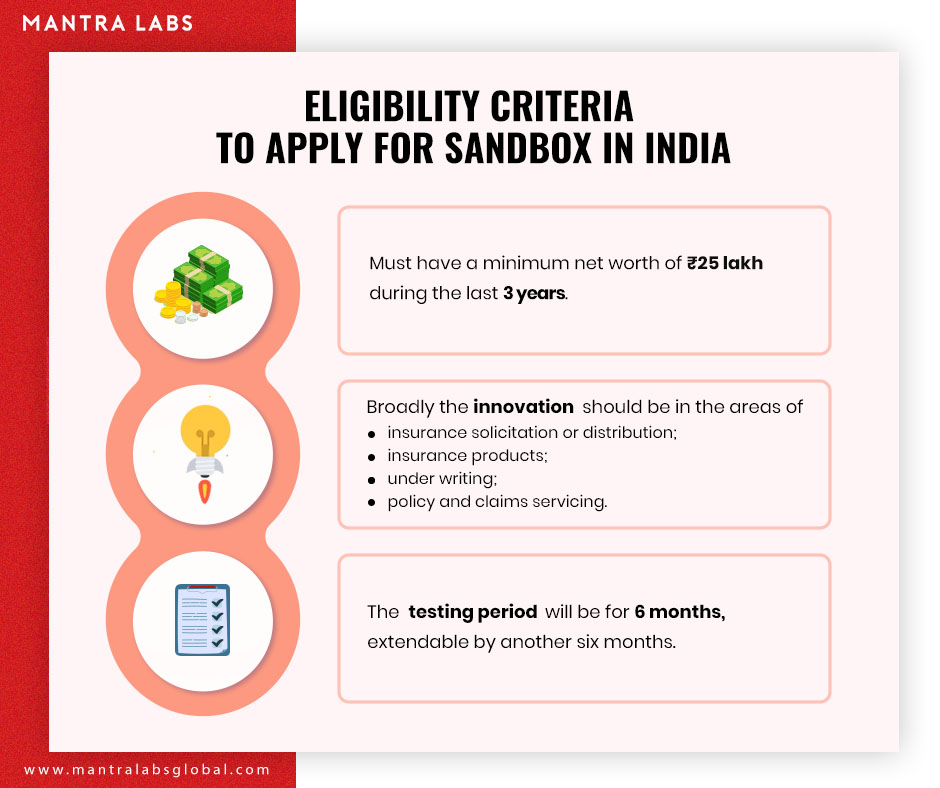 Eligibility Criteria for Insurers or Insurance intermediaries to apply for Sandbox in India:
A 10-member committee comprising IRDAI officials and representatives of Insurance companies and the World Bank has been set up to regulate the sandbox process. The panel has been asked to dwell on the key regulatory issues Fintech poses across the insurance value chain.
Despite recent advances, insurance remains a tough industry for innovation. However, the fast-growing interest in "Insurtech" is reflected in its popularity as a google search term since 2016.
Insurance penetration in India is only 3.69% of GDP against a global average of 6.2%; the Sandbox Approach for testing the new products can help improve these numbers. The "Sandbox Approach" offers a plethora of opportunities for the Insurance Industry to set out on a journey and expand their reach into more ecosystems than ever before.

Knowledge thats worth delivered in your inbox